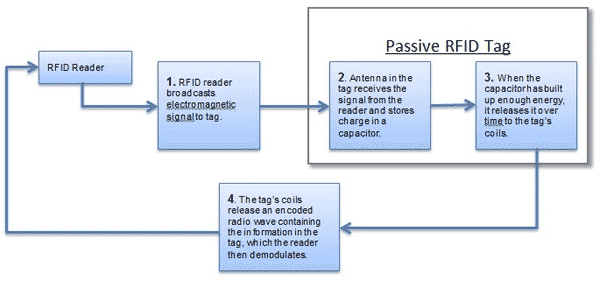 Passive tags has no battery and uses energy from the reader's radio waves, making it more affordable than an active tag which requires a battery to power itself.
Active RFID tags have a transmitter and their own power source (typically a battery). The power source is used to run the microchip's circuitry and to broadcast a signal to a reader (the way a cell phone transmits signals to a base station). Passive tags have no battery. Instead, they draw power from the reader, which sends out electromagnetic waves that induce a current in the tag's antenna. Semi-passive tags use a battery to run the chip's circuitry, but communicate by drawing power from the reader. Active and semi-passive tags are useful for tracking high-value goods that need to be scanned over long ranges, such as railway cars on a track, but they cost more than passive tags, which means they can't be used on low-cost items.
RFID tags can be either passive, active or battery-assisted passive. An active tag has an on-board battery and periodically transmits its ID signal. A battery-assisted passive (BAP) has a small battery on board and is activated when in the presence of an RFID reader. A passive tag is cheaper and smaller because it has no battery; instead, the tag uses the radio energy transmitted by the reader. However, to operate a passive tag, it must be illuminated with a power level roughly a thousand times stronger than for signal transmission. That makes a difference in interference and in exposure to radiation.