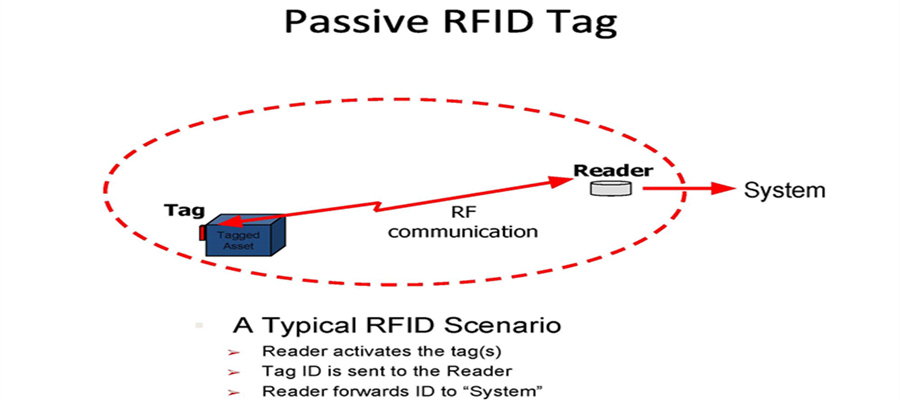 Passive tags is a type of RFID tags, Passive RFID tags are comprised of three elements: an integrated circuit or chip, an antenna, and a substrate.
The RFID chip stores data and performs specific tasks. Depending on its design, the chip may be read-only (RO), write-once, read-many (WORM), or read-write (RW). Typically, RFID chips carry 96 bits of memory but can range from 2-1000 bits.
Attached to the chip is the antenna, whose purpose is to absorb radio-frequency (RF) waves from the reader's signal and to send and receive data. Passive RFID tag performance is strongly dependent on the antenna's size: the larger the antenna, the more energy it can collect and then send back out. Larger antennas, therefore, have higher read ranges (although not as high as those of active tags).
Antenna shape is also important to the performance of the tag. Low- and high-frequency (LF and HF, respectively) antennas are usually coils because these frequencies are predominantly magnetic in nature. Ultrahigh-frequency (UHF) antennas, on the other hand, look similar to old-fashioned TV antennas (rabbit ears) because ultrahigh frequencies are solely electric in nature.
The third component of a passive RFID tag is called a substrate, which is commonly a Mylar or plastic film. Both the antenna and the chip are attached to the substrate, which may be thought of as the glue that holds all of the tag's pieces together.
In contrast to active RFID tags, passive tags are usually smaller and less expensive.
Have additional questions about Passive RFID or Active RFID Tags and how to get started?
Call us 86 135 1027 1993 directly.