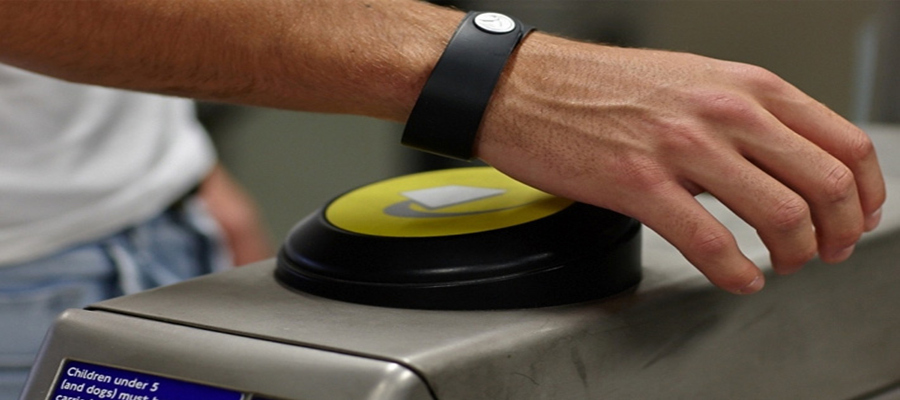 RFID Bracelets or Wristbands are kinds of contactless RFID products and base on existing popular RFID technology. Chuangxinjia RFID is committed to offering high quality products with the backing of advanced technology and standardized production process all the time. RFID LED Wristband, for instance, is designed as a kind of multi-function portable wristband, working on either 125 KHz or 13.56 MHz operating frequency. This kind of contactless RFID LED Wristband has adopted revolutionary and leading Bluetooth technology, which succeeds in transferring the private and important information in seconds without any complicated procedure.
Besides, RFID LED Wristband is made of polyster so that it is strong enough to extend its life. Operating at the temperature from -30 to +65 degree Celsius, RFID LED Wristband can be used in lots of application with its portable design to wear on the hand even though in bad circumstances. Nowadays, RFID wristbands at music festivals designed by Chuangxinjia RFID have become necessary products in daily life.
What is more, it sounds interesting that RFID LED Wristband is intelligent and qualified to be controlled by the switch only, but also the music and remote. RFID LED Wristband is such a perfect product and that is the reason why it has become popular beyond the promotion activities and is increasingly used for events and music festival and so on. To sum up, RFID LED Wristband is one of the most powerful and innovative product from Chuangxinjia RFID. It is the perfect products that build up the strong relationship between the loyal customers of various enterprises and Chuangxinjia RFID. Our plastic RFID wristbands are ideal for water parks, concerts, or other events.
In order to keep pace with popular fashion trend among the young people, Chuangxinjia RFID links many fresh elements into its technical products under rigorous material selection and strict manufacture. For instance, RFID Wristbands At Music Festivals With LED, made of Polyester, are suitable for LF or HF Operating Frequency with LED controlled by RFID, remote, music or switch. In brief, it is admired that RFID wristbands at music festivals are fashionable and easy for all ages to use.
What's more, the sensitive voice sensors of RFID wristbands at music festivals let users enjoy the music without a thought of themselves. Besides, according to self needs, customers can also choose whether the RFID wristbands at music festivals are one-time used or reusable. Besides, made of silicone, the NFC wristbands are able to read and write for mare than 100,000 times, which can also comply with ISO stardard.