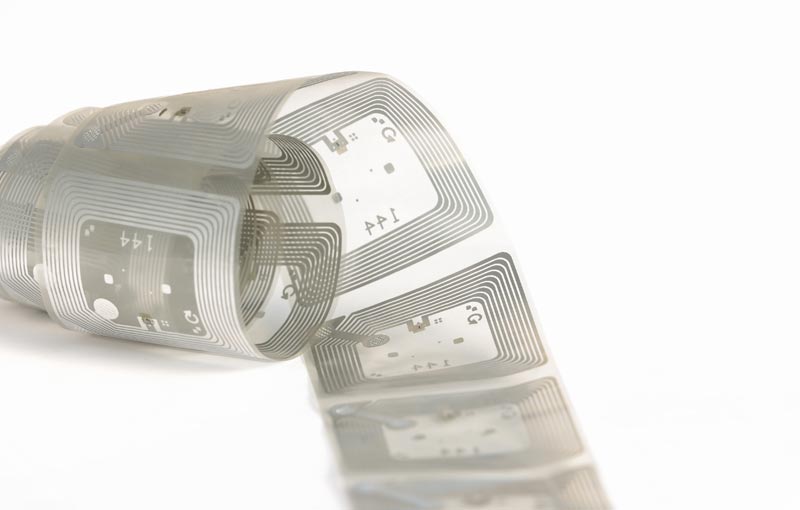 RFID tag inlay are composed of an IC (Integrated Circuit, Chip) and a Dipole antenna. Logistics supply chain, waste disposal, waste collection basing RFID RF transmitter transponder, digital warehouse management, value-added security traceability,bags and suitcase, warehouse stock, container, goods shelf, pallet, equipment, asset pallet trackings, communication equipment, medical device observed from medical articles and clothing management etc.
Sometimes just have them as a law material and pass to next rfid production like lamination, inserting or die-cut process, mostly process is made from dry inlay, wet inlay to be a finished RFID labels or finished tag like woven labels laundry tag garment hang tag rfid barcode fabric label depending on RFID project ideas, can't be direct used for a special RFID application.
TAGSYS RFID AK5 UHF tag – Impinj Monza 5 – Wet inlay TS650E04/TS650E04V6The TAGSYS RFID AK5 UHF Tag is a special product which can be used as stand-alone UHF near-field RFID tags or combined with a secondary UHF far-field antenna optimized for a specific application and also placed onto or in proximity of a metal part which works as a far-field antenna, boosting the read range.
Identiv's portfolio comes with an extensive choice of RFID chips that include support for most common RFID standards: ISO/IEC 15693, ISO/IEC 14443, ISO/IEC18000-3, or ISO18006-C, EPC Gen2, including NFC Type 1, 2, 3, and 4. RFID tag inlay are available with all major chip suppliers including NXP, Infineon, Inside Secure, ST Microelectronics, Broadcom, EM Microelectronics, Alien Technology, Impinj, Sony Felica, and others.
The UHF Gen 2 compliant RFID solutions are improving Cleor's logistics efficiency and accuracy across their entire operation including: receiving/reconciling supplier shipments at the DC/warehouse; picking/shipping from the DC/warehouse to the stores; receiving/reconciling DC/warehouse deliveries at stores; controlling in-store inventory; determining the location of merchandise in the display windows.