860-960MHz Red RFID Laundry Tag Price Factory Direct Sales
Description
Description
Get Various RFID Laundry Tag Price Today
Silicone UHF RFID laundry tag are the ideal choice for tracking laundered items such as garments, robes and towels. RFID laundry tag is great to be used in hospitals, nursing homes and garment industries and the hospitality. The perfect 360° read profile means you can rack the tags from any angle. Flexible low-profile design offers versatile attachment methods. Sew these RFID laundry tag directly into the seams and hems of garments, blankets and other products; heat-seal tags onto fabrics; or place them in small pouches, then stitch into a seam or hem. The Silicone RFID laundry tag can be dry cleaned or washed up to 200 times in hot, soapy water. Resistant to high temperatures, tags can be ironed at 200°F with a press cloth for up to 10 seconds, placed in a dryer for up to an hour at 185°F and/or sterilized in an autoclave.
Feature
Long read range up to 12 feet.
Withstands high temperatures and work well in harsh environments.
Waterproof.
Chemical & Solvent resistant.
Easy sew into garments, linens and towels.
Great for hospitals, hotels, nursing homes and laundry multiple shop.
Specification
Product name
Custom RFID Silicone Asset Tag for Marking & Tracking UHF RFID Laundry System
Model
CXJ-RLT002
Material
Eco friendly silicone
Size
100x15mm, 90x24mm, 80×24, 50x15mm, 45x30mm
Frequency
UHF 860-960MHz
Chip
Alien H3(optional)
Protocol
UHF EPC Class 1 Gen2; ISO18000-6C
Read distance
 0-10M(It depends on reader, tags and environment etc.)
Operating Mode
Passive
Life time
300 times industrial washing
Operating temperature
-20℃ to 50℃
Waterproof
IP67
Solvent resistance
Excellent
Chemical resistance
Excellent against detergents, bleach, alkali, softener, dry cleaning materials
Maximum temperature
Long term at 10hr: 120℃
Standard at 5mins: 136℃
Short term at 90secs: 144℃
No effect on the tag. Tag remain the sames in appearance and RFID function. No sign of peeling, tearing or destruction. And the tag read normal after the tests.
Application
Linens Managenemt, Uniform Management, Hospital Laundry Management, Hotel Laundry Management, Industrial Textile Management, etc.
MOQ
500pcs
Sample availability
Free samples are available upon request.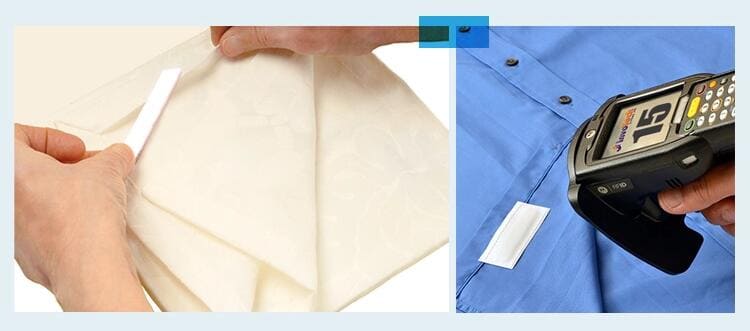 Extraordinary no-wear feel for extreme comfort and into all kind of garments(private & workwear)!
Get A RFID Laundry Tag price List Now! Contact at info@cxjrfidfactory.com
RFID Silicone Laundry Label Solution