ISO 14443A Custom Woven NFC Wristbands/ For Concert/Music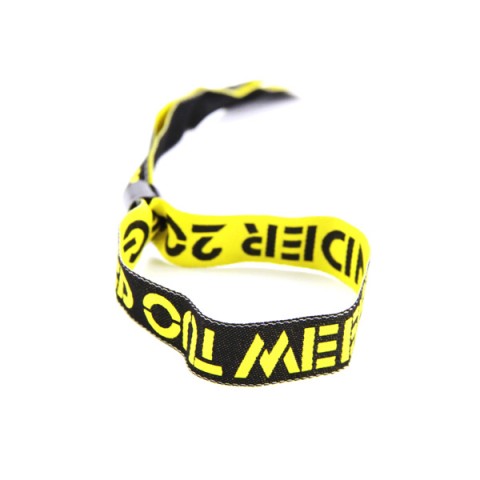 NFC Woven wristbands For Events & Festivals
Model: CXJ-NRW011
Material: Polyester/nylon+PVC
Size: 350x15Mmm or customized
Frequency: 13.56MHz
Protocol: ISO14443A
Printing: Woven printing or heat transfer printing
Packing: 100pcs/bag, 1000pcs/ctn
---
Inquiry Now! or contact info@cxjrfidfactory.com
Description
Description
Festival Woven NFC wristbands For Events & Concerts
Custom festival woven NFC wristbands are made by fabric woven wristband, PVC slider card with NFC chips inside and cotton(plastic material, metal material or customized). Woven NFC wristbands bracelets are the ultimate multi-day, high-security event management solution! The special polyester material, slider PVC card, and cotton materials create wristbands that are soft and extremely comfortable to wear.
CXJ NFC woven wristbands are ideal for event management, cashless payments, and social media marketing programs. These woven NFC wristbands are comfortable to wear during week-long events. Choose either adjustable clasp (multi-use) or locking clasp (one time use) for this one size fits all item. This item is available with full color to die sublimation imprint. You are sure to get noticed once your audience saw and wear these trendy wristbands!
Feature
Waterproof, durable RFID slider provides unique identification.
RFID woven wristbands are soft and extremely comfortable to wear.
High-Security closure for the festival market helps event promoter protect revenue by preventing wristband transfer
Cashless payment wristbands used very easily.
More than 16 experience, can provide our best quality with steps by steps QC.
Specification
Item
ISO 14443A Custom woven NFC wristbands/bracelets for concert/music
Model
 CXJ-NRW011
Material
PVC tag and fabric wristband
Size

PVC tag: 42x26mm or 40x25mm or 36*25mm etc

Wristband: 350x15mm, 350x16mm  etc

Frequency
HF: 13.56mhz
Protocol
ISO 14443A
Features
Eco-friendly soft, comfortable, lightweight, reusable closure
Reading distance
1-10cm
Crafts
Logo printing: Digit printing, offset printing and silk printing
Number printed will be available (Serial No & Chip UID)
Chip program/encode will be available as well ( URL, TEXT, Number and Vcard) Epoxy, Customize size and shape, Hole punch etc
Chip

NTAG® 203, NTAG® 213, NTAG® 215, NTAG® 216;
MIFARE Classic® 1K, MIFARE Classic® 4K;
MIFARE Plus® 1K, MIFARE Plus® 2K, MIFARE Plus® 4K;
MIFARE Ultralight® EV1, MIFARE Ultralight® C;
MIFARE® DESFire® 2K, MIFARE® DESFire® 4K, MIFARE® DESFire® 8K

Application
Business card, Ticket, Advertisement, NFC mobile payment, NFC electronic intelligence posters, Electronic ticket, production identification, NFC electronic sign in, Mobile name cards, library management, entrance access, or expense, and so on
Production time
8-10 days(<5000 pcs), it depends on order quantity.
Packaging
100pcs/dozen; 500pcs/bag; 4000pcs/carton;
carton size: 50×38.22.5cm
MOQ
500pcs
Free Sample
Available at any time
Remark:
NTAG are registered trademarks of NXP B.V. and are used under license.
ICODE are registered trademarks of NXP B.V. and are used under license.
MIFARE and MIFARE Classic are trademarks of NXP B.V.
MIFARE and MIFARE Ultralight are registered trademarks of NXP B.V. and are used under license.
MIFARE and MIFARE Plus are registered trademarks of NXP B.V. and are used under license.
MIFARE DESFire are registered trademarks of NXP B.V. and are used under license.
What's NFC?
Near Field Communications (NFC) is a short-range wireless radio frequency identification (RFID) tech that can transmit data between two electronic devices with physical touch, or close to each other. NFC typically operates at HF 13.56MHZ ISO14443A protocol and a distance of 4 centimeters or less.
An NFC tag is a small passive (no battery) device which contains a tiny microchip attached to a small loop antenna. When the tag is scanned by an NFC reader such as a mobile phone, it powers up and wirelessly transfers information such as a web address, text or a command for an App. The NFC tag can be locked so that the data on the tag cannot be changed or left unlocked so the data can be changed again and again. NFC tags are typically printed stickers or plain stickers, but they can be also enclosed in NFC products such as keyfobs, wristbands, hang tags and many other items.