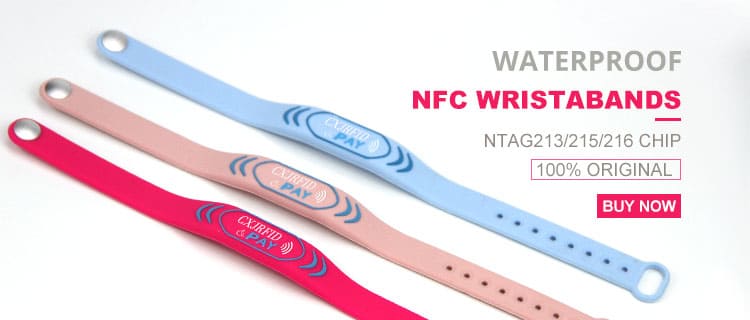 NFC wristband payment used for mobile phone access control, contactless payment, the wristband can package various RFID chips. NFC wristband is a kind of RFID wristband. It can divided by wristband material: NFC fabric wristband, NFC leather bracelet, NFC silicone wristbands, NFC tyvek wristbands etc. Among them, NFC silicone wristbands are the most popular one. This RFID wristband is stylish, sport-proof, and does not affect the accuracy of reading.
The NFC silicone wristband has an NFC tag that gives your phone access to controls. So you can more easily store your health, business or personal information. NFC-enabled smartphones can read or write the wristband. So you can share links, social media profiles, health information, business cards, websites, contact details, and even make contactless payments!
How does NFC silicone bracelet and mobile phone work?
① First, download the NFC tool free application on your Android device.
② Second, bring the cuff close to the NFC receiver of your smartphone.
③ Finally, choose a function which you like and write it on the wristband's chip with one click.
Now, any Android or IOS device that touches your bracelet can read and follow your features, receive your messages, transfer your social media profiles, websites, business cards or links, and even activate Bluetooth devices or open the door!
What is the optional NFC chip for NFC wristband payment?
NTAG203, NTAG213, NTAG215, and NTAG216 were developed by NXP Semiconductors, and are used as standard NFC tag IC in conjunction with NFC devices or NFC-compatible close-coupled devices. They are widely used in market applications such as retail, gaming, and consumer electronics.
| | | | | |
| --- | --- | --- | --- | --- |
| Common Chip Types | Protocol | Capacity | Anti-collision | Function |
| NTAG® 213 | ISO14443A | 180 byte | No | Read/Write |
| NTAG® 215 | ISO14443A | 540 byte | No | Read/Write |
| NTAG® 216 | ISO14443A | 924 byte | No | Read/Write |
Why we suggest our customers to choose NTAG213?
Previously, the most commonly used NFC tag chip was NTAG203, while NXP has stopped production of NTAG203 and focused on the NTAG21X series. The NTAG213 chip is a replacement for the commonly used NTAG203 chip, and the storage memory is also 137byte. But the difference is that NTAG213 can be repeatedly encrypted and rewritten, while NTAG203 can only be locked after the information can not be changed. Therefore, NTAG213 has a great advantage in the market, and is fully compatible with NTAG 203 and Mifare ultralight c.
Ultra-stylish and comfortable to wear, especially the adjustable RFID silicone wristband can fit your wrist completely without any discomfort. Whether you sweat, bath or swim in the gym, it will not affect its performance. Because the silicone wristband itself has excellent waterproof performance. It is great!
CXJ RFID Factory's silicone bracelet uses environmental protection silicone material, which is safe, non-toxic, harmless and odorless. The NFC chip provided by CXJ RFID Silicone is 100% genuine, read and write up to 20,000 times. Compatible with all NFC-enabled read / receive devices.
Visit: www.cxjrfidfactory.com now, to find the style which you like in NFC wristband payment.