Project Profile:
The campus IC card has become an inexorable trend of campus management. The goal of the digitized campus is built into the backbone platform of the "campus card" system, identity authentication, consumption in the campus, administrative affairs management, all those subsystems are built on this platform. The system goal is given a card to every student or every teaching staff, this card set ID card, library card, consumer card, computer card, medical card and so on as an organic whole, it on behalf of the cardholder's identity. Free to recharge consumption on the card, achieve to one card can use for everything in campus, thereby realize to convenient to ride the school bus, medical registration, food consumption and other demand in campus, further enhance the level of school management, implement the modernization of the campus IC card.
Solution:
The system from top to bottom is divided into three levels, respectively is IC card system, three subsystems, subsystems extension, system diagram is as follow: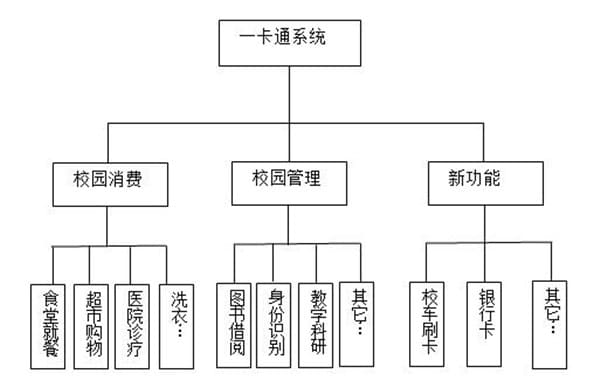 Campus Consumption:
including have a meal in the canteen, supermarket shopping, diagnosis and treatment in hospital, self-service laundry, etc.
Campus Management:
including borrow a book, identification, teaching and research, etc.
New Functions:
bus card, bank card, and other.
Campus IC card system is applied base on the consumption of teaching staff and student, personal management, expand business three aspects, so as to achieve prepare normalized Contact IC cards management.
"IC card" system mainly includes synthesis front-end system, card management system, students pay subsystem, business consumption subsystem(meals, bathing, fetching water, supermarket shopping) computer room management subsystem, self-service laundry system, certification system(educational, books, fingerprint recognition), medical management subsystem, etc. Each subsystem contains multiple function modules, and provides search and update functions for each function modules. Provides a convenient way for recharge campus card, people not need to carry the cash, also avoided the risk for counting and money detect, and can recharge without a limit work time, improved work efficiency, saved a time for teachers and students, use the advanced database technology and data management technology, make the accuracy and safety of the data has been greetly improved, and the parallel operation of user and user management also have greatly improved. With the development of software system tools, object-oriented, visualization tools continue to emerge, it can help the software developer to improve the quality and efficiency of software development, reduce the development cycle.
System Function Diagram: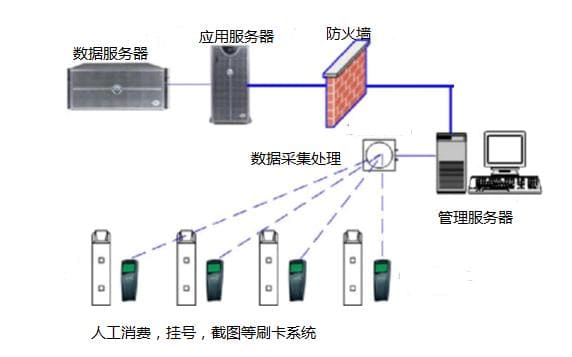 Subsystem(Consumption) Diagram: