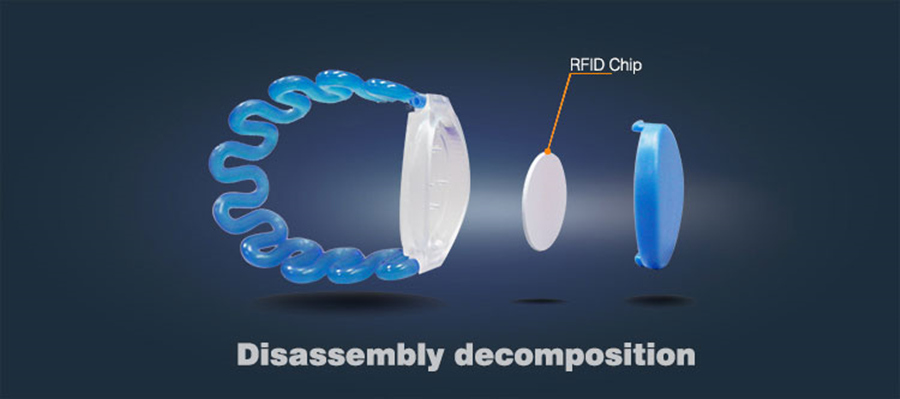 Wristband PVC disposable can be put to manifold uses at conferences or in healthcare industry. More importantly, RFID wristband design can be made up to the enterprises completely in the aspect of color and pattern. In this way, RFID wristband design succeeds to fulfill the purpose of the event with unique logo printed on it consequently. In general, RFID wristband design has spread around the globe due to its wonderful design and brilliant efficient performance. Shenzhen Chuangxinjia Smart Card Co., Ltd. is the major leading RFID manufacturer in China, with more than 15 years production and R&D experience.
Unexpectedly, RFID black wristband can still be identified even from 20 cm away, though it depends on readers and environment. As for the capacity of resistance to extreme environment, RFID black wristband is able to maintain in proper operating condition even if it is under the exceptional temperature from -40 to +100 degrees celsius. Apart from being used as ticket for entertainment venues, RFID Black Wristband can also make a contribution to access control of many occasions.
Chuangxinjia's RFID black wristband are designed and manufactured with recognized industry standards relevant to RFID and its markets but most notably for use in the demanding environments to recognize and understand your business's RFID and NFC needs. Recently, Chuangxinjia RFID has released latest plastic RFID wristband owning adjustable size and exquisite shape. Depended on readers and IC type, plastic RFID wristband is able to be identified within 5 ~ 20cm. Besides, plastic RFID wristband is suitable for many occasions even severe environment, as it can resist exceptional temperature from -40 ~ +100 Degrees Celsius.
At the same time, plastic RFID wristband has low existence and makes users feel comfortable during using. Furthermore, plastic RFID wristband has outstanding waterproof function which greatly extends its application range. Thus, plastic RFID wristband is qualified in coping with access control of places with large flow of people. To sum up, plastic RFID wristband has vast market potential due to their perfect humanized design and high quality. In short, RFID LED wristband leaves good memory to the people with a fantastic experience.