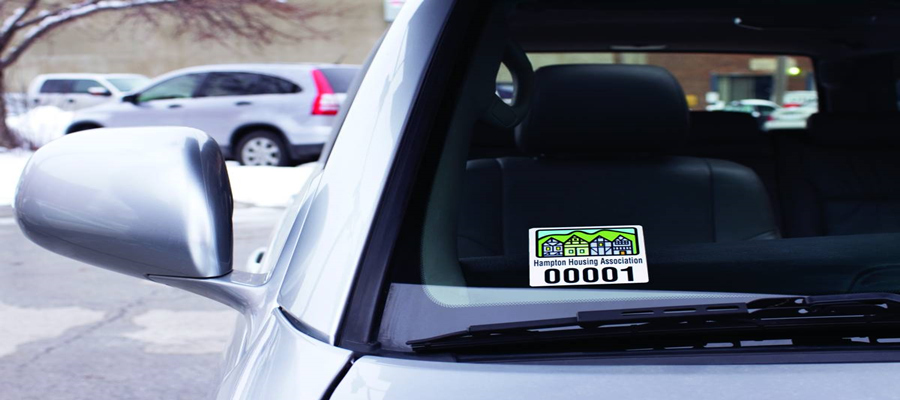 Windshield RFID tag is specially designed for fast and reliable vehicle identification. Enforcement officers simply use their SkyRFID 13.56 MHz RFID GPRS equipped Hand Held reader to read the HF ISO 15693 tag ID and then press a single key to check on line real time using the built in GPRS to the central data base. Event parking management, Toll highway management, simply anywhere you may need additional security and controls SkyRFID has our new short term disposable windshield tag.
If the windshield RFID tag is valid then nothing needs to be done but, if the tag is not valid for that area or is expired, then the officer presses a key on their SkyRFID hand held reader and a tow truck is dispached to the scene. Coming with black human readable and a preprogrammed RFID UHF inlay this tag is designed to be placed on the outside of the windshield.
Trying to take this tag off destroys the tag as it is very simply constructed and only designed to last for a matter of a few days. For the larger enterprise or even a country we have highly customized vehicle windshield tags available in HF 13.56 MHz and UHF 860~980 MHz. The EPC Gen 2 windshield RFID tag have a frequency version of 860MHz to 868MHz for choice, and another frequency version of from 902MHz to 928MHz for selection. Actually, harmlessness will be the first requirement of animal tracking tags to be considered.
Designed for global use, the EPC Gen 2 (ISO 18000-6C) windshield RFID tag has been widely use in a wide range of applications such as in gated communities, business parking lots and garages, university areas, etc. As one of the remarkable results of product research, LF RFID Tags are specially devised for livestock tracking and has attractive features. Besides, the reading distance of LF RFID tag can reach up to 20cm though it depends on readers and practical environment.
Shenzhen Chuangxinjia Smart Card Co.,Ltd specialize in producing arguably the world's most extensive line of RFID Tag, Smart Label, Smart Card and RFID Reader, which are suitable for any vertical markets, and have obtained the National Integrated Circuit Card Register Certificate, IC Card Manufacture License and ISO9001 Quality Management System Certification. As a result, this excellent tag is able to serve for a long time to provide a cost effective way.