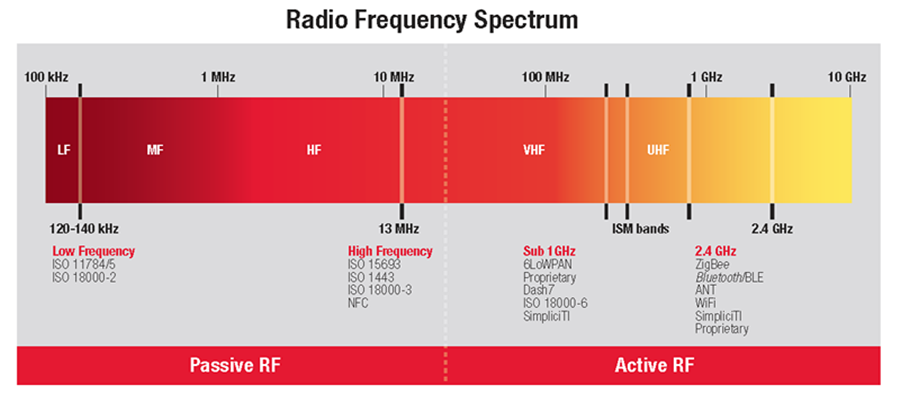 RFID transponders (RFID chip and antenna) are available in different RFID frequency and selection is dependent on the application, environment and the construction of the items tagged. your needs and design a solution that fits the performance requirements of your RFID system.
Ultra-High Frequency (UHF)
Ultra-High Frequency or UHF RFID tag is ideal for longer read range applications (1 to 20 meters) where fast read/write speeds are desired. UHF applications are ideal for item level visibility where dense tag populations and movement are in play typical of manufacturing, healthcare, RTLS, asset tagging and tracking projects.
High Frequency (HF) and Near Field Communication (NFC)
High frequency (HF) and Near Field Communications (NFC) tags both operate in the same frequency and have a shorter read range (centimeters to a meter). HF is typically employed for healthcare, smart card, ticketing and library applications where close reads are desired and ideal RF environments cannot be controlled. Most smart phones are now embedded with an NFC reader or scanner and applications where a tap to the tag can direct the user to websites, social media or other NFC marketing applications.
Low Frequency (LF)
Low Frequency (LF) tags have the longest wave length and are ideal for the challenging RF environments of liquids and metal content typical of animal identification and smart key applications. Read ranges are usually limited (centimeters to one-half meter) and tag programming is often set to a unique secure identifier.
Dual Frequency (UHF and NFC)
Dual RFID Frequency Tags combine the long range read/write ability of UHF RFID with the user-level functionality of NFC tags and labels. The result is a multi-function tag which provides the visibility for manufacturing, inventory and logistics applications and the brand interaction goals of NFC marketing into a single tag with a shared chip that can be read or programmed with a smartphone.