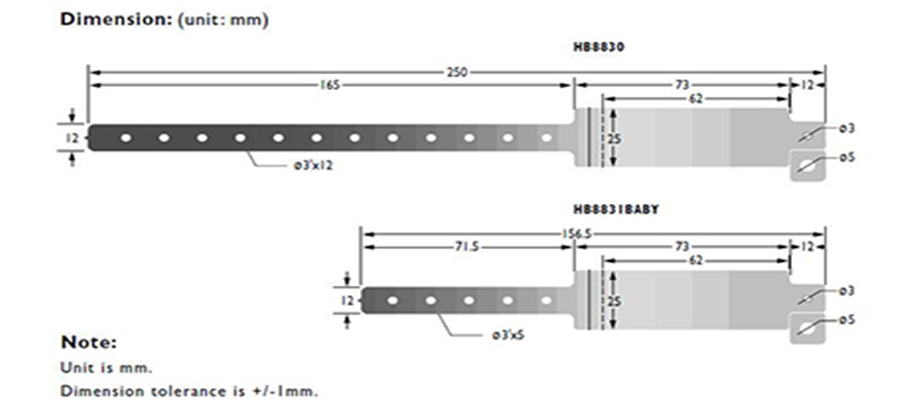 RFID disposable wristband is made of new high technology paper material, this kind of paper can be durable and water-proof. Shenzhen Chuangxinjia Smart Card Co.,Ltd. also print follow customer logo or artworks. Put RFID wet inlay backside of paper and use for package tracking, amusement park, hospital management, etc. It will be more competitive price and widely application. The frequency range will be 125khz LH and 13.56mhz HF. RFID disposable wristband are a cheap and secure solution for any event. These types of customized bands are easy to apply to the wrist and as soon as the band is secured, a tamper evident adhesive prevents the wristbands from being taken away. We provide full color printed disposable RFID paper wristbands. You can ask us to customize the wristbands for you. Desire to print on paper wristbands in another color? View our other disposable RFID paper wristbands products.
Your bulk order of discount wristbands may include some or all of the following types of disposable bands. All vinyl disposable wristbands apply with a snap and adjustable hole available in varying shapes and sizes. Each one of our disposable wristband types share certain common features and other features that are unique only to that specific material type. Some variations in delivery and one, full, and multi-color printing customization is also dependent upon your wristband choice. Once your disposable wristband type has been selected it's time to proceed in creating the best custom wristband available in today's industry.
Our paper event RFID disposable wristband supply protection for parties, nightclubs, bars and amusement parks. RFID Tyvek paper wristband are well suited for a low-cost solution and are popular with children events.