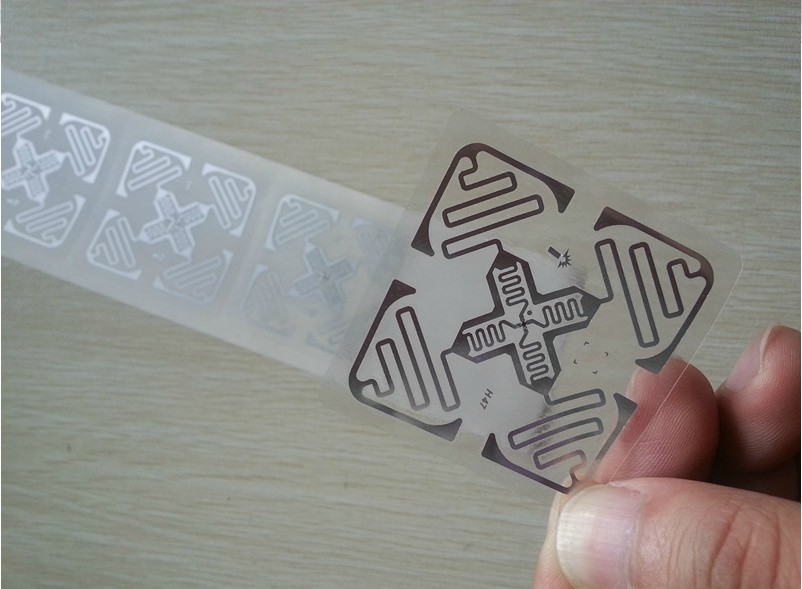 RFID wet inlay are passive RFID inlay with an adhesive backing that can be either applied to a product directly or converted into smart labels (integrated into a paper or plastic label). For high-security applications, the product can be supplied with HID Global's Trusted Tag Services, a combination of special NFC Forum Tag type 4 compliant chips with 8 kB of memory and an online authenticity verification platform that together allow frictionless, efficient and secure verification of any tag reading action without the need for any dedicated app or device modification.
Sometimes just have them as a law material and pass to next rfid production like lamination, inserting or die-cut process, mostly process is made from dry inlay, wet inlay to be a finished RFID label or finished tag like woven labels laundry tag garment hang tag rfid barcode fabric label depending on RFID project ideas, can't be direct used for a special RFID application.
Our assortment of wet inlays constantly changes, so please check back often and let us know if you need help selecting or locating an inlay for a particular application! By signing up for our Newsletter, you will receive the latest promotions and coupons, as well as interesting information about the RFID, NFC and mobility technology and applications. Different shapes and sizes are offered for wet/dry nfc inlays, with different face materials as well as with and without adhesive. NFC typically operates at HF 13.56MHZ ISO14443A protocol and a distance of 4 centimeters or less.
Large wet/dry nfc inlay have better reading performance while smaller wet/dry nfc inlays are more easily concealed on or within a product. Wet/dry inlay are relatively fragile so not suitable for projects that require maximum durability or long term exposure to severe environments. And if you need flexible size and shape or require an adhesive compatible on metal surfaces, then you should choose NFC stickers.
Near Field Communications (NFC) is a short-range wireless radio frequency identification (RFID) tech that can transmit data between two electronic devices with physical touch, or close to each other. An NFC tag is a small passive (no battery) device which contains a tiny microchip attached to a small loop antenna. When the tag is scanned by an NFC reader such as a mobile phone, it powers up and wirelessly transfers information such as a web address, text or a command for an App.