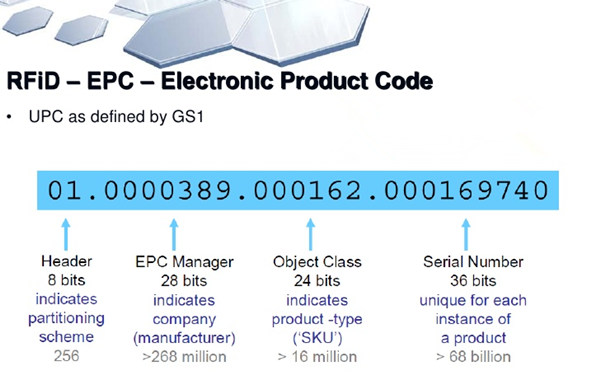 EPC RFID stardard, the main focus of the group currently is to create both a worldwide standard for RFID and the use of the Internet to share data via the EPCglobal Network.
EPCglobal – this is the standardization framework that is most likely to undergo international standardisation according to ISO rules as with all sound standards in the world, unless residing with limited scope, as customs regulations, air-traffic regulations and others. Currently the big distributors and governmental customers are pushing EPC heavily as a standard well-accepted in their community, but not yet regarded as for salvation to the rest of the world.
The Electronic Product Code (EPC) is a standard specification to ensure unique serial numbers for each individual object hence it can be tracked independently. The standard allows different companies to share and exchange information in different data storage types efficiently through the same interface, thereby reducing time spent on integration.