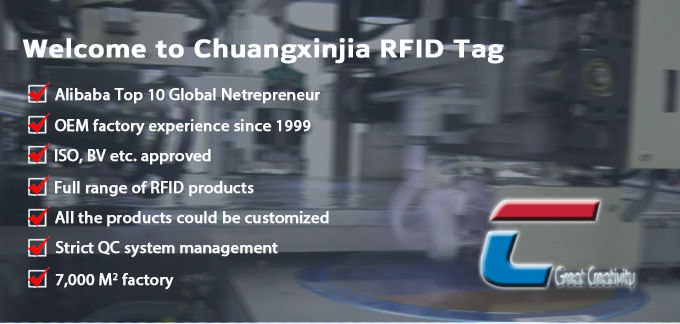 Alien Technology manufactures a range of EPC Gen 2 inlays designed to deliver optimal performance in a variety of applications. Packaging Defined of your needs, normally supply roll by roll (some specified tag can be piece by piece), 2000-5000 pcs roll/bag & paper carton (packed and stacked on pallets with a marker of RFID label or RFID tag). The dogbone RFID wet inlay and RFID stickers uses the Impinj Monza 4D IC (integrated circuit) providing an extra layer of reliability from another respected industry leader.
In 2010 Shenzhen Chuangxinjia RFID tag corporation was founded, a high technology enterprise which engaged in researching as well as producing and marketing of system project, application equipment and end products. And that Shenzhen Chuangxinjia is a professional NFC tag manufacturer in China. Likewise, the inlays are compliant with international standards ISO 18000 and EPCglobal Gen2, so the Dogbone RFID stickers and wet inlay will work with all equipment and systems adhering to the proper standards. Featuring two dogbone" shaped antennas, the dog Bone RFID wet inlay and RFID stickers transmits in an omni-directional pattern eliminating blind spots.
An RFID programmer encodes information onto a tiny microchip within a thin RFID tag that looks much like a normal pressure-sensitive carton label. RFID readers that work on the same protocol as the tag are distributed at key points throughout the supply chain. These readers activate the tag, causing it to broadcast high frequency radio waves within bandwidths reserved for RFID usage by individual governments.
Readers relay the codes to a host computer as the carton passes through an RFID portal or moves along a conveyor anywhere in the supply chain. RFID label or tag integrity is maintained as it is underneath the actual label, inserted within the packaging or encased in a durable material. Each RFID label or tag can be read even when multiple tagged products are sealed inside a carton (for example).
RFID labels and tags are often orientation-insensitive, meaning the tagged item not only does not have to be seen to be read, but can be in any orientation. RFID labels and tags provide a unique ID for each and every product and can be associated with individual information such as the manufacturing location; date shipped, lot number, etc. If this is your first RFID project, it is important to work with an experienced RFID systems integrator to help lay out the framework for the project and offer guidelines on the type of solutions that should be considered.