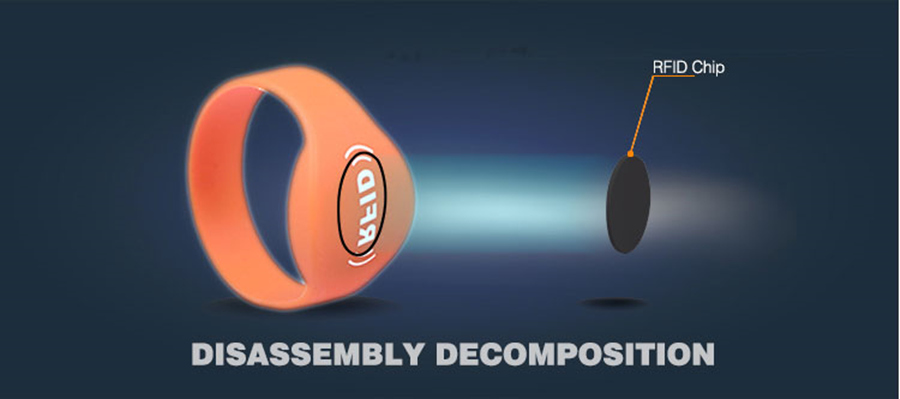 RFID silicone wristbands have become one of the most popular and stylish promotional products worn worldwide. Both low-priced and highly customisable. Because they're comfortable, durable, and waterproof, silicone wristbands can be worn by people of all age ranges, anytime and anyplace!
Silicone can meet customers' durable and heat resisting requested. Today, this environmental material for our RFID wristbands becomes more and more popular. RFID silicone wristband or bracelet will put RFID inlay or smaller RFID tags inside silicone then for people daily access control, amusement parks, water-pool, club membership or some identify function. We can offer RFID silicone wristbands or bracelets in closed type and opening type. 125khz, 13.56mhz and 860-960Mhz are available. We can help customer to encode data, artwork printing and it will be best indentify RFID product in wristbands or bracelets.
The RFID silicone wristband impresses with new design and an array of personalized choices. The RFID silicone wristbands come in all standard colors blue, red, black, yellow and green etc. Like all our other RFID silicone wristband(paper, fabric, pvc) the RFID silicone wristbands is available with all standard chips as LF 125KHz (EM, Hitag), HF 13.56 MHz (Mifare, DESFire, Legic) and UHF.
Shenzhen CXJ provide rewearable RFID silicone wristband that are flexible, waterproof, and have a comfortable feel. They are offered in adult, youth, and child dimensions. Additionally they also can be equipped with your own logo design, in addition to a option from one of our many color offerings.