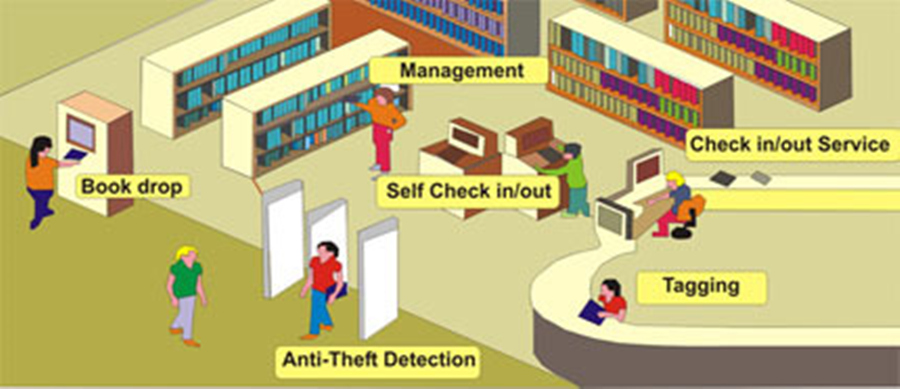 RFID tags are used in many industries, for example, an RFID tag attached to an automobile during production can be used to track its progress through the assembly line; RFID-tagged pharmaceuticals can be tracked through warehouses; and implanting RFID microchips in livestock and pets allows positive identification of animals. Additional time commitments include the installation of the actual technology, testing, and the training of library staff members before final implementation. Aside from the obvious technical considerations—such as what specific functionalities the library desires—a number of points must be decided. Management will need to coordinate with the library's current ILS vendor to ensure that the system will be able to interact smoothly (or at all) with any particular library RFID system and, if so, determine what will need to be done to interface the systems.
Management should also coordinate with the RFID vendor to gauge whether any supplemental software or hardware will be required to ensure the system runs as intended. Additionally, it will be vital before choosing an RFID vendor to ensure that the library RFID system are compliant with all relevant ISO standards for security to protect both the library and its patrons.
If the system goes down, while items can still be circulated using bar code numbers, any security features on item tags will remain activated unless the library owns a backup machine capable of turning it off; otherwise, a patron will set off other alarm systems as she passes through the library. However, it is important to note library RFID system used in libraries differ from other applications in several ways.
Tracking abuses the location tracking features of Chuangxinjia RFID tags, potentially allowing, by extension, the tracking of the library patron who checked it out. Preventative measures—such as purchasing only short-range tags or encryption, along with a thorough security policy—should be put together before implementation. Library RFID system are composed of two primary components: tags and tag readers.
If the library functions as part of a consortium, it will be crucial to determine at an early stage how many of the libraries in the system will be undergoing implementation. Obviously, this decision will overlap with other factors—such as cost and staff availability—but it will also affect library function. RFID tags can be low frequency (LF), high frequency (HF) or ultra high frequency (UHF).