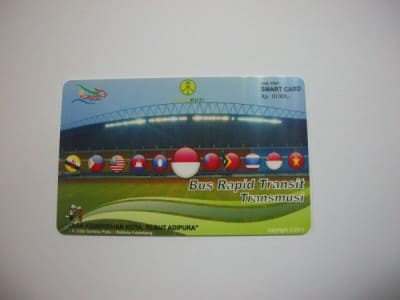 This is not the first time we cooperate with the government, but this time with Jakarta Government give us a good chance let us open Asia bus market, after we cooperate with Iraq and Dubai and so on. The first time they touched us, they have very high demand and standard.
They plans that every passenger will have smart fare ticket in the pocket in near future. Doesn't matter how big or small transportation company is, on which geographic area it is situated, currency used, profile of passengers. everybody would enjoy benefits of the smart card fare system.
Since 23-Sep, 2011, we have established long term cooperation with Jakarta Government in Indonesia, to be the stable provider of their 1 million pieces bus cards. Their first order 100 thousand bus cards has been placed to us in September. The chips of these bus cards are Mifare S50 and Fudan F08.
This successful cooperation is a historic event to our company, since then, our international trading business has been widely spread throughout the Asia Market. The good news was we have signed an agreement with Jakarta Government to be their long term bus cards provider.
Chuangxiajia is a company that have their faith, we hope that we can make better products, moreservices to the world, to provide more convenience for the people
We look forward to welcomingyou.
Best regards!