Project Profile
Item:Chuangxinjia RFID Tags Clothing Management Solution
Chuangxinjia RFID tags
In recent years, with the development of information technology, the competition of garment industry becomes more and more fierce, the enterprise from the simple cost behavior competition has evolved into the competition of production efficiency, logistics reaction chain and the intelligent management of the store. Especially clothing stores, it directly face to face with final consumers, management efficiency of store and customer experience will be directly related to the brand image and competitiveness of clothing enterprise.
Chuangxinjia RFID intelligent store management solution help garment retailing enterprise open all channels data chain by RFID, improve the efficiency of every links and according to accurate data realize the product sharing, collect multi-node data to provide analysis base of large data, to promote cross-border integration of retail industry and Internet of things, to further build the "chip" era's harmonious ecosystem.
System Highlights
Top Speed Inventory: It can read 40 units goods per second by the industrial-grade RFID handset, the inventory speed has been greatly improved, reduced the loss, help workers to liberate from tedious work, and the stores grasp of inventory data's accuracy has also been improved;
Top Speed Take Delivery: The delivery speed of industrial-grade RFID handset is 5 second/box, goods receiving officer can check the delivery note quickly and implement the data real-time transmission, to ensure logistics is consistent with the data flow;
Top Speed to Find Goods: Store worker use industrial-grade RFID handset to lock of designated clothing information, get the goods which is customer needed to them in time, realize the speed to find goods and to avoid loss sales opportunities by the artificial "unavailable", also can increase sales target.
Top Speed Replenishment: Can traceability goods whole chain dynamic from factory to retail stores by industrial-grade RFID handset, showing which goods are "unavailable", then it can intelligent replenishment in time, avoid this kind of phenomenon, and to improve the accuracy and visibility of inventory management.
Frame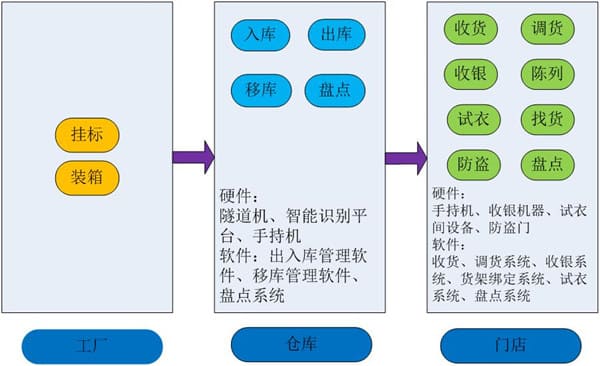 Benefit Analysis
Reduce inventory backlog and stockout risk, increase sales opportunity, reduce the HR cost, quicken logistic speed.
Guided by market and consumer, set up the flexible supply chain system, enhance the core competitiveness.
RFID technology can enhance operational efficiency, also can loss prevention, reduce the over reliance on people, build an independent shopping platform. Chuangxinjia RFID Tags fit in clothing industry could be enhance operational efficiency, reduce the manpower, let people enjoy a smart a shopping trip.
Welcome to contact us for more details of the Chuangxinjia RFID Tags fit in Clothing Industry.