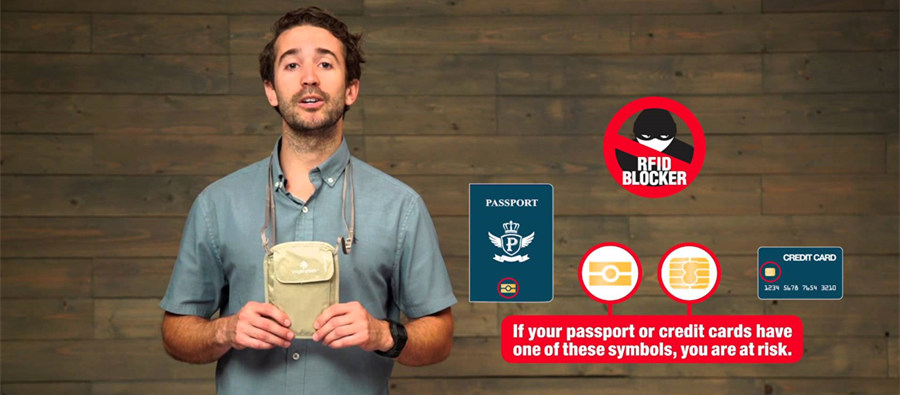 While there are many RFID blocking products on the market, most are only moderately effective at shielding a would-be thief from skimming your information. The reason I am sharing my diy rfid blocking sleeve is because 1) it really is easy to make, 2) it is way cheaper than anything you can buy and 3) because after extensive research – the DIY RFID blocking sleeve I create works better.
You will need: (envelopes from the US Post Office for free/ Tin Foil/ An old disposable plastic credit style card/ Scissors)
Step One:
Begin with your Tyvek envelope. Using one of your RFID credit/debit cards as a template, trace an outline of the card around three sides. The bottom (see picture) will be the bottom fold of your new DIY RFID blocking sleeve.
Step Two:
Cut out what you have traced on the Tyvek envelope. You should have one long rectangular piece of Tyvek with a crease at the middle.
Step Three:
Get out the tin foil and flatten it with your disposable plastic card on a clean, flat, dry and smooth surface.
Step Four:
Apply the spray adhesive or other bonding material to one side of the long, rectangular piece of Tyvek. Adhere the coated Tyvek strip, adhesive side down, to the tin foil. Smooth out any wrinkles and extra adhesive from the Tyvek with your disposable plastic card. Let dry as needed.
Step Five:
Trim the foil off of the edges of the Tyvek. You now should have a piece of Tyvek with bonded tin foil on one side. Fold the rectangle back in half where the original crease is. The Tyvek will become the interior section of your sleeve and the tin foil, now on the exterior, will become covered with tape.
Step Six:
Plan your method of how you want to wrap your Tyvek and tin foil sleeve in the duct tape. Make sure that the top is left open and is taped loosely enough so that your card will fit in. Also, make sure the tape slightly overlaps itself as you apply it. Note, you may want very sharp scissors handy. By cutting, instead of tearing the duct tape, you will finish with a more professional looking and stylish card sleeve.
Thanks for checking out my DIY RFID blocking card sleeve project! I hope you had fun! If you thought this project was easy, cheap and totally do-able – please share it with your friends and family. My goal is for you and those you know to have an easy and effective way to become protected against digital theft.