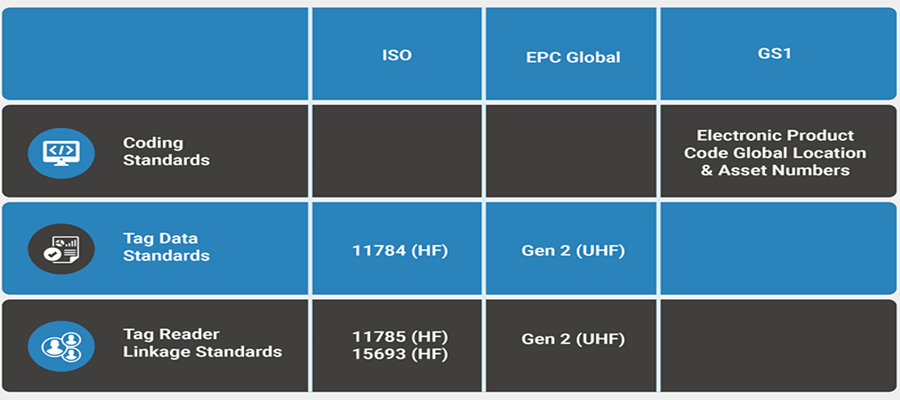 RFID standards are guidelines or specifications for all RFID products. Standards provide guidelines about how RFID systems work, what frequencies they operate at, how data is transferred, and how communication works between the reader and the tag.
Mifare (ISO 14443)
Mifare Ultralight is by far the cheapest RFID standards to date. It is commonly used for disposable tickets but can also be used for short distance reading for access control, identification cards, or any other form of ticketing. The Ultralight cards allow storage of up to 512 bits of encrypted data. The information can be stored on an RFID card that is similar in size to a credit card, an RFID key tag or be embedded in stickers and cardboard for inventory tracking.
Mifare RFID readers are small and can be placed on any desktop or wall. The reading range for the Mifare card is limited to 5-7cm, so close contact is a requirement. Mifare is the standard we use with our Gym Master software to provide membership cards and gym access controls. It is the easiest and cheapest RFID standard to implement but is limited by its reading range.
Vicinity Cards (ISO 15693)
Vicinity RFID cards are very similar to that of Mifare RFID but the standard allows for more flexibility, as the RFID can be read from further away, and cards and key-fobs can be more durable.
Vicinity RFID readers allow reading distances of up to 1.2 meters – similar to that used in store security to prevent people stealing items. The cards or key fobs come in a variety of shapes and sizes including those that are waterproof and durable in harsh conditions – like a ski field where skiers and instructors use RFID cards or key tags to get access to lifts.
EPC Gen 2 (ISO 18000)
EPC Gen 2 is the latest RFID standards for long-distance reading. It has a reading and writing range of up to 10 metres under optimum conditions. The readers come with external antennas to increase the reading distance. The cards can either be active, which have their own power supply for extended range, or passive traditional ones which do not have their own power supply. Both active and passive cards are encrypted for security. The EPC Gen2 RFID cards, like Mifare RFID, can come in a variety of shapes and sizes, and can also be embedded in stickers and cardboard.
EPC Gen 2 is often used for inventory tracking and non-contact access controls. Because of its long-distance capabilities, items with a RFID tag are able to pass through a door with antennas on each side and the reader will be able to identify the RFID tag without contact. The same principle can be used to track people, stock, or items of any shape and size every time they pass by a reader.