Notice Of Payment Account
Dear Customers,
Due to the virus COVID 19, the epidemic in foreign counties become serious. China with better situation now but all people still wear mask every day, as there are people who have no symptoms but carry the virus, and we all wear masks to protect ourselves from infection, and also to prevent people who are infected or who carry the virus from spreading the virus.
Due to the masks quality in China is uneven. Many unqualified suppliers are selling fake masks or even paid but get nothing.
CXJ is concerned about customers. Let's fight together to overcome all difficulties. We acquired a mask factory Now and can offer disposable masks and KN95 masks. CXJ guarantees our masks are reasonable in price and reliable in quality with CE and FDA certified. If you have interest then please contact us, thank you!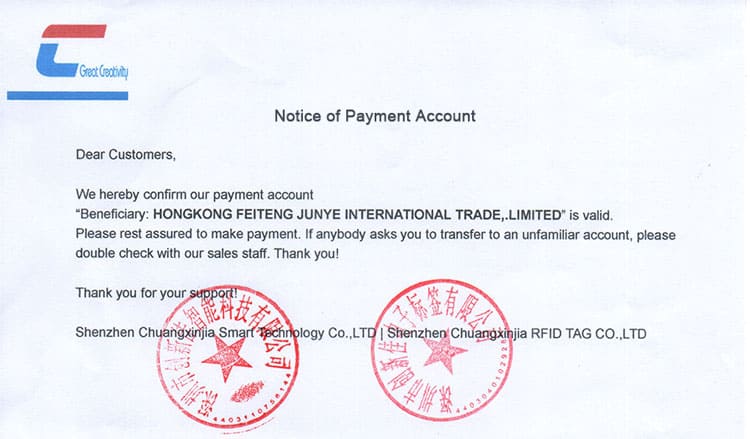 We hereby confirm our payment account "Beneficiary: HONGKONG FEITENG JUNYE INTERNATIONAL TRADE,. LIMITED" is valid. Please rest assured to make payment. If anybody asks you to transfer to an unfamiliar account, please double check with our sales staff. Thank you!
Thank you for your support!
Shenzhen Chuangxinjia Smart Technology Co., LTD | Shenzhen Chuangxinjia RFID TAG CO., LTD