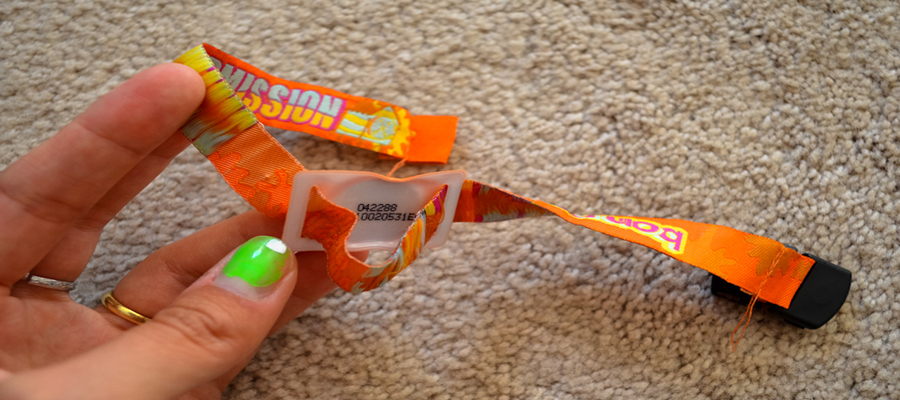 Offering you a complete choice of products which include wristbands such as silicone wristband, paper wristbands, one time use wristband, waterproof paper wristband, detachable wristband, paper wristband and many more items. In particular, designed for festival events, RFID festival wristband has the suitable reading distance up to 20cm, which enables participants to come and go easily and freely. Apart from the flexible design, RFID festival wristband is completely waterproof for unpredictable accident to ensure its normal operation. You don't want the customer to have the ability to remove the wristband at will.
Actually, RFID festival wristband not only benefits the participants, but also increases the profits for festival organizers due to its disposability design at low cost. More importantly, festival organizers can obtain the information of each participant intelligently and quickly by taking advantage of RFID festival wristband to some extent. Combined with the adjustable size, RFID wristbands UK suit for various people and they can be customized with different logo.
In a word, RFID festival wristband transforms the festival experience and launches a new era of festival with more convenient and efficient performance. Shenzhen Chuangxinjia Smart Card Co., Ltd.'s RFID festival wristband is designed and manufactured with recognized industry standards relevant to RFID and its markets but most notably for use in the demanding environments to recognize and understand your business's RFID and NFC needs.
Shenzhen Chuangxinjia Smart Card Co., Ltd. is the major leading RFID manufacturer in China, with more than 15 years production and R&D experience. Mainly products: rfid card, rfid tags, rfid wristband, rfid blocking sleeve, rfid keyfob, etc. We worked with a group of professional card system engineers, running with advanced production equipment, and servicing by our cooperative sales team. We are aiming to provide our customers with quality products and good service. Since it established in 1999, Our clients are around the world. Our big clients include Sony, Samsung, OPPO, British Telecom, Coca Cola, etc.