Silicone UHF RFID Wristband With Super Long Reading Distance
UHF + HF Alien H3 RFID Silicone Wristband
Model No.: CXJ-RSW051
Material: Food grade eco friendly silicone.
Size: 265 x 35 x 8 mm
Frenquency: UHF (required) + HF (optional)
Chip: UHF (Alien H3). HF (FM11RF08, Mifare S50, NTAG 213 etc).
Read Range: 6-7m(Fixed reader, 30dBm/9dBi), 3-4m(Handheld reader, 30dBm/4dBi).
Craft: Silk screen printing or laser engraving of your custom logo.
MOQ: 500PCS
---
Stock Testing samples ready for you! or info@cxjrfidfactory.com
Description
Description
CXJ New Silicone UHF RFID Wristband
CXJ New R&D silicone UHF RFID wristband reading distance can reach at 6-7 meter. This is good news for users of RFID solutions with super long reading requirements.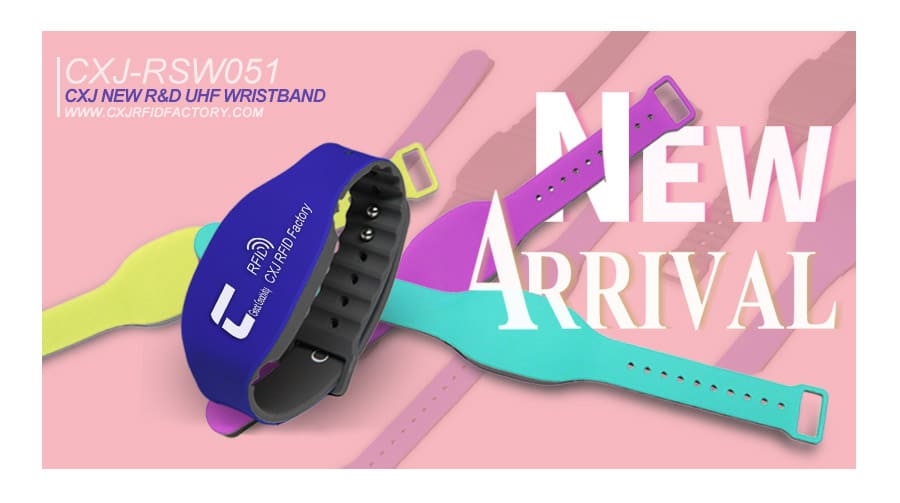 CXJ-RSW051 Waterproof UHF RFID Wristband is suited for the marathon, beach, waterparks, sports clubs and any other RFID access control applications. CXJ-RSW051 UHF RFID Wristband are IP67 waterproof, durable, eco friendly, heat resistance, and anti-allergy. All our RFID silicone wristbands are available with UHF or UHF + 13.56 MHz HF. Custom wristband color, custom LOGO printing all available for our RFID UHF silicone wristband. Craft options like unique QR code, serial number, barcode, embossed, debossed, laser printing etc all accepted for UHF silicone bracelet. These wearable RFID wristbands with fresh designs are made of 100% eco silicone. It is comfortable to wear and widely used in daily life.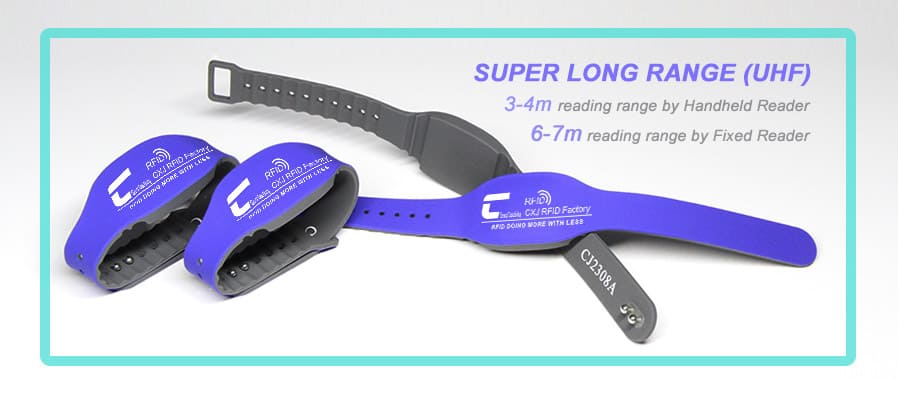 UHF RFID Wristband Feature
Self-developed ultra-high frequency wristband, occupy the market advantage.
Super long reading range: 6-7m reading range by fixed reader, 3-4m reading range by handheld reader.
Food grade eco-friendly silicone material, no bad smell.
Water Proof IP67.
High temperature resistance, operating temperature: -30 °C to 200 °C.
Adjustable size, one size suits all.
Comfortable to wear, high standard surface treatment: smooth feel, dust proof.
Bicolor fashionable style
Ripples design, slip-resistant & flexible.
High quality metal lock, 100% waterproof, rust proof.
Silicone Wristband Size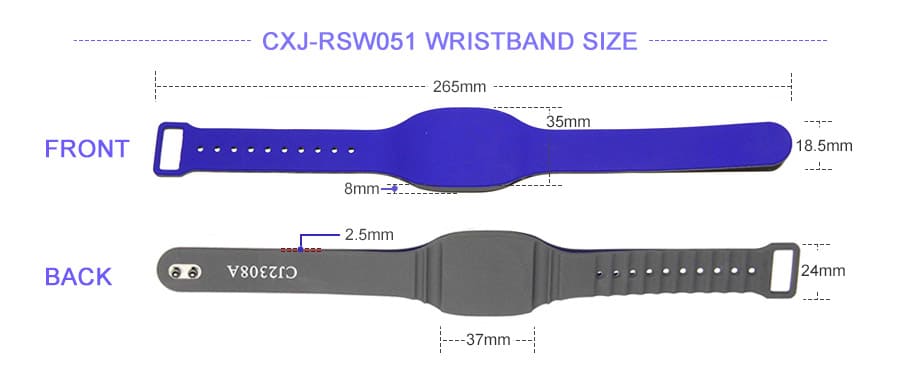 CXJ-RSW051 Specification
| | |
| --- | --- |
| Product name | Bicolor waterproof IP67 UHF + HF Alien H3 RFID Silicone Wristband |
| Model | CXJ-RSW051 |
| Material | Silicone |
| Frequency | UHF (required) + HF (optional) |
| Operating Mode | Passive |
| UHF Chip | Alien H3 |
| HF Chip | FM11RF08、Mifare S50、NTAG 213 etc. |
| Size | 265 x 35 x 8 mm |
| Read distance | 6-7m (Fixed reader, 30dBm/9dBi), 3-4m (Handheld reader, 30dBm/4dBi) |
| Waterproof grade | IP67 |
| Humiture | -30-220℃ |
| Color | Single or double colors are available. |
| Craft | Silk screen printing or laser engraving of your custom logo. |
| MOQ | 500pcs |
| Packaging | 38 grams |
---
Wristband' s Special Design Details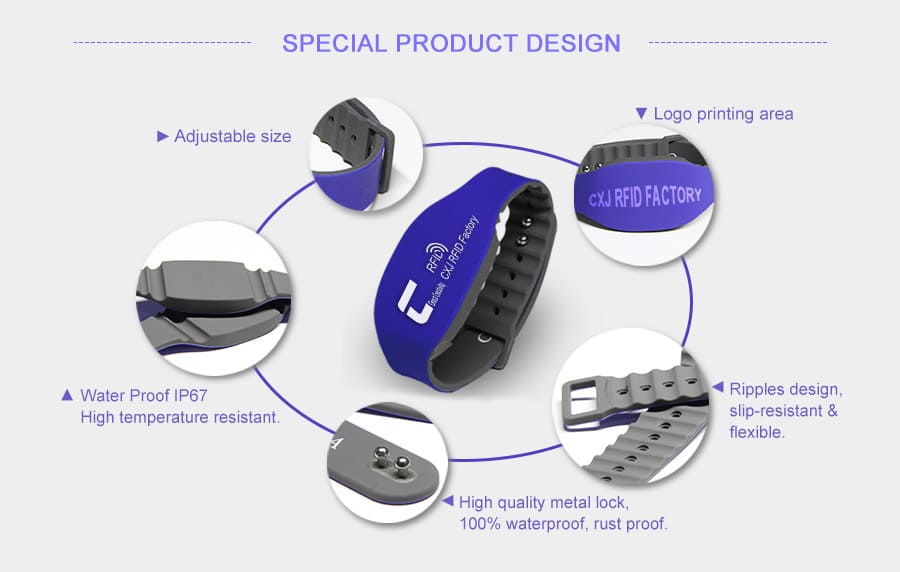 Theoretical Read Range Forward
The frequency of theoretical read range forward: 860-960MHz (as shown below).

CXJ-RSW051 Color Show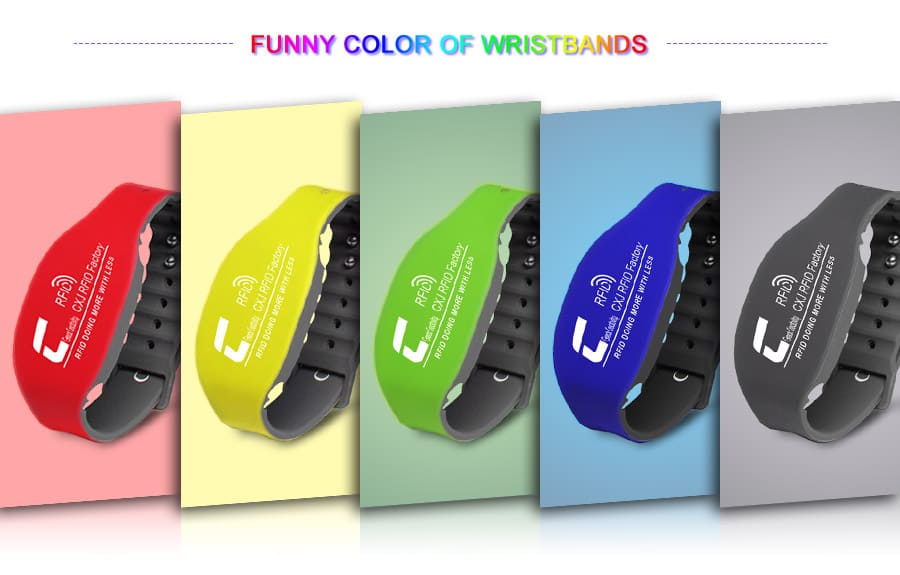 What a beautiful colorful silicone wristband! You want it?
Contact info@cxjrfidfactory.com now! Stock Testing samples ready for you.
Application

RFID Doing more with Less, You need an uhf RFID wristband!
It is widely used in marathon, swimming and diving competitions to facilitate personnel management and control.